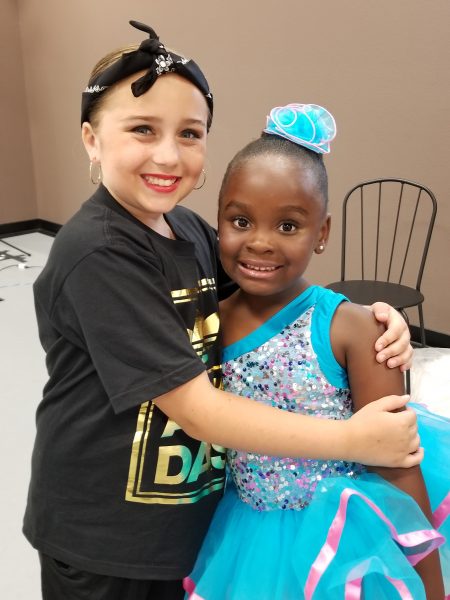 Davenport's Premier
Dance Instruction
Taking dance lessons at Performer's Edge Dance Center is more than just dance classes, it is about passing on the passion for the art of dance to students of any skill level and age. Whether you are taking your first class or would like to pursue dance as a career, PEDC provides a professional environment to expand your creativity and self-expression. It is our belief that our well-qualified staff will give our students a sense of self-achievement and discipline that will help them with life's lessons well after classes end.
Established in 2003 by director/owner Amie Hollborn, PEDC started out in a 2,400 square-foot, two-room facility, and within five years, grew to a 5,000 square-foot dance facility with four dance rooms. From 2015-2018, PEDC was involved in the design, planning and construction of a new state-of-the-art 10,000-square-foot facility that opened in March 2018. This new space includes five spacious dance rooms, with each room designed with the proper sprung dance floors and professional audio equipment.
PEDC offers classes for beginner through advanced students in Dance with me, Combo Classes, Ballet, Tap, Jazz, Hip-Hop, Lyrical, Acrobatics, Piano, Voice, and more.
In 2014, PEDC began the process of locating land to build their new dance facility. The land purchase and building design were finalized in the Spring of 2017 to allow construction to begin shortly after. The new Dance Center was completed in March 2018 allowing the students of PEDC to move into the new facility prior to the 2018 recital. With the new facility, the Dance Center expanded to 5 rooms increasing the overall square footage from 5000 to 10,000 square feet. The facility has 5 dance rooms with rooms specifically designed for ballet class and tap class. Below you will find a brief description of each room. Contact PEDC to request rental information.
Dance Room Descriptions And Rental Information
PEDC has 5 rooms all with 9 ft mirrors, JBL audio systems, sprung dance floors and specific floor coverings.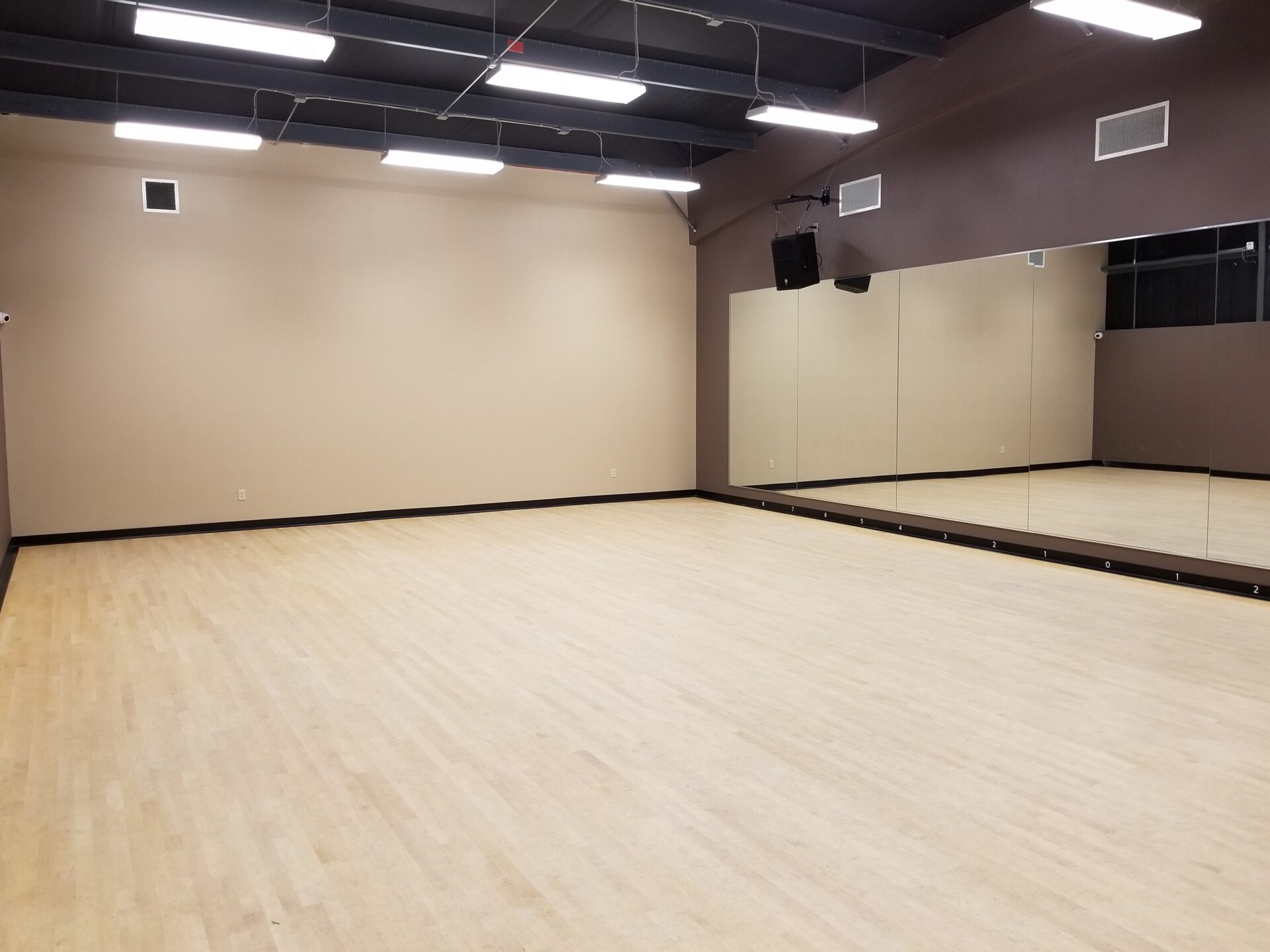 Room 1 is 1200 square feet with solid maple plank flooring on a raised sprung sub floor. The room is perfect for tap but is also great for all other styles.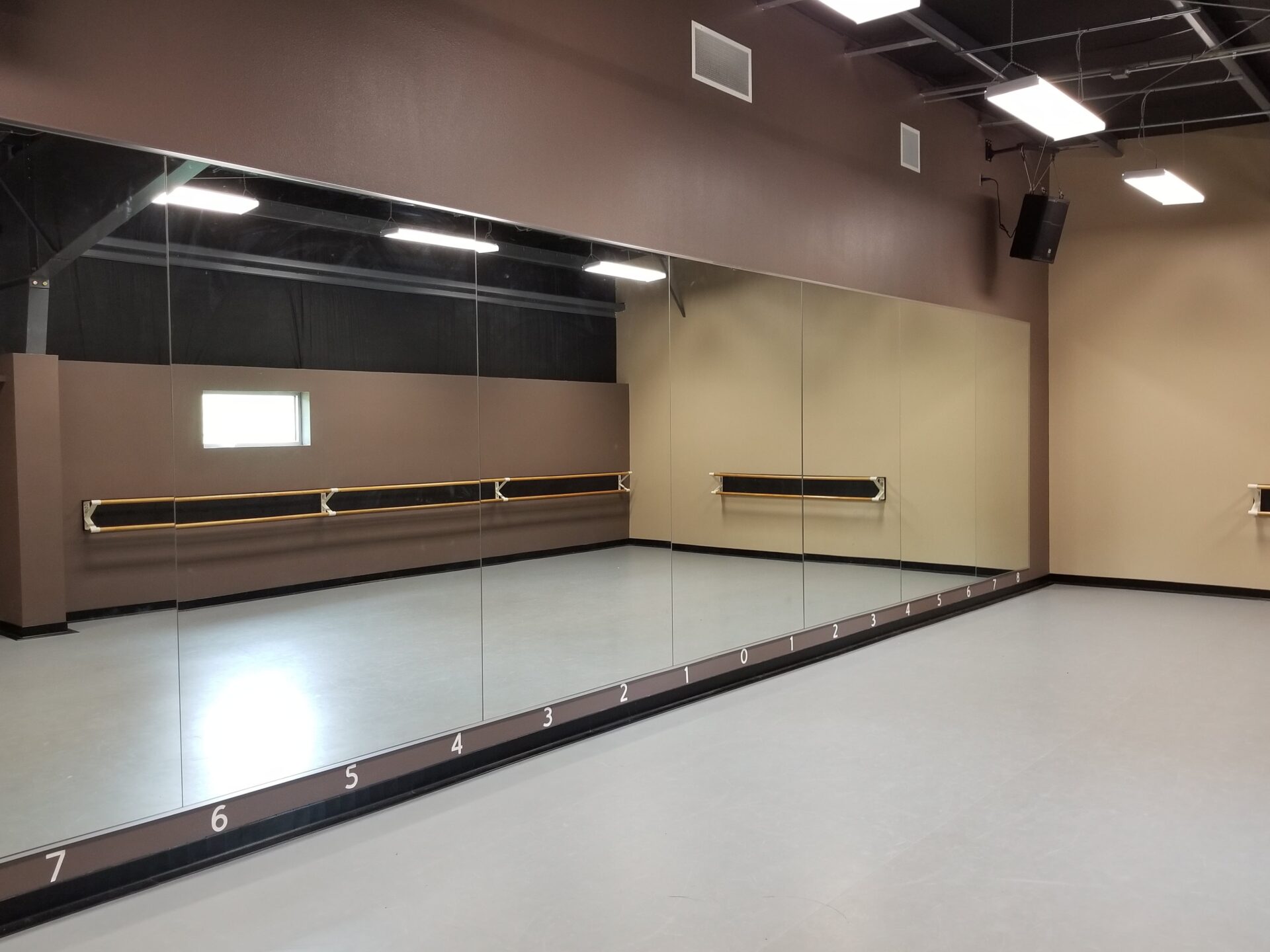 Both rooms 2 & 3 are 800 Square feet with Grey "Marley" flooring on a sprung dance sub floor. These rooms are perfect for all styles of dance.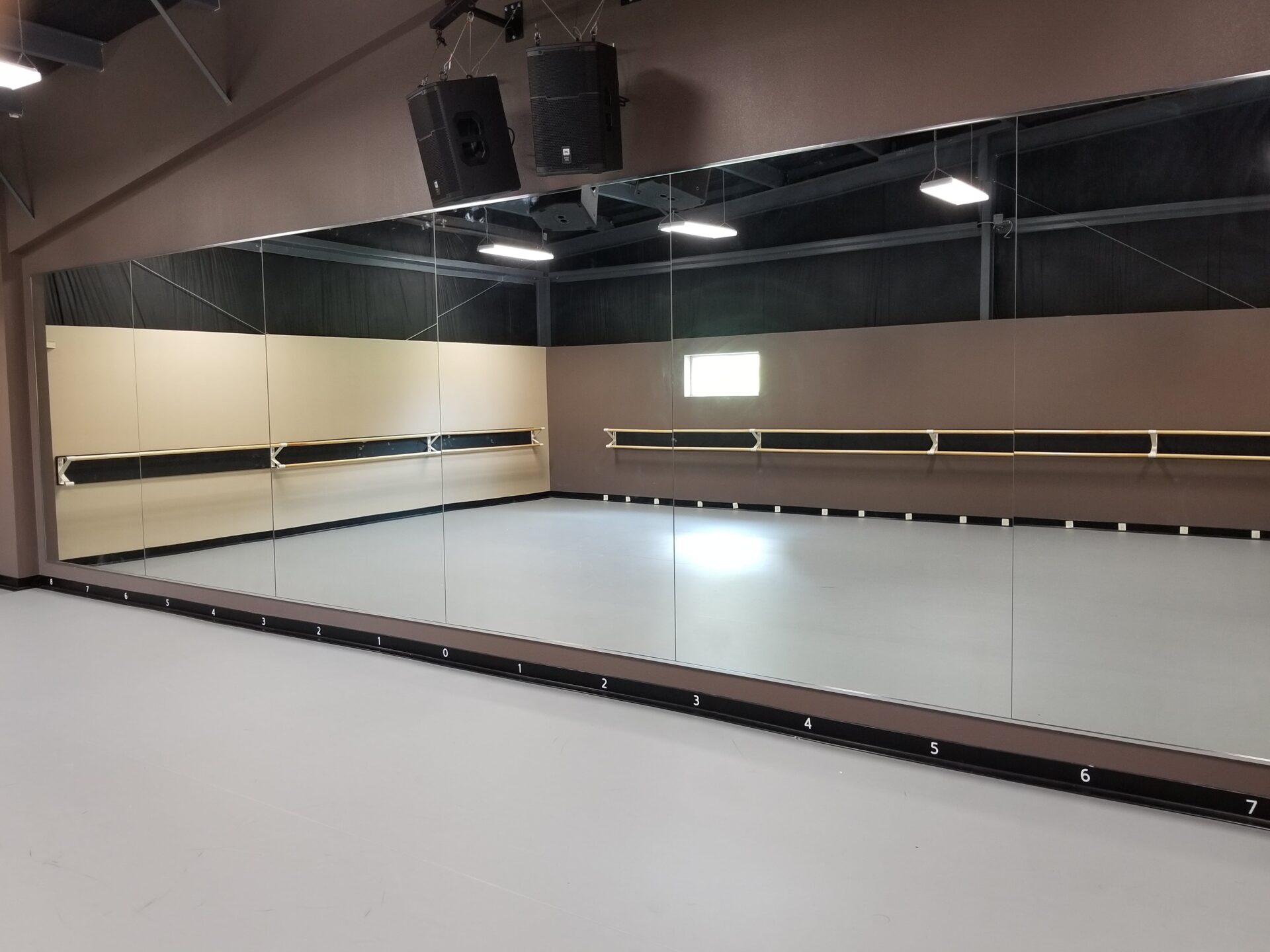 Room 4 is 1000 square feet with a Grey "Marley" flooring specifically designed for Ballet and Pointe.
Room 5 is 2000 square feet with Grey "Marley" on a sprung dance sub floor. This room is good for all style except tap.
TUITION
1. Tuition is due on the FIRST of each month. If tuition is not paid by the 10th, tuition will be charged to the card on file on the 11th of the month. If tuition is not paid by the end of the month, PEDC reserves the right to suspend your account and not allow the student to participate in class or any other dance studio related activities and/or programs. I authorize Performers Edge Dance Center Inc. to initiate tuition only debit entries against the credit card account listed on file on the account on the 11th of the month if tuition has not been paid. I understand that this is for tuition only.   
2. Invoices are NOT mailed out monthly. It is the parents/students responsibility to pay tuition in a timely manner.
3. There are no excuses for late tuition. Example- the student was sick last week, we went on vacation... Tuition payments can be paid via your online account, mailed in, automatically on a credit card each month or by paying at the Dance Center.
4. Tuition is based on a yearly price broken into monthly payments. There are no tuition discounts for shorten months unless otherwise specified. There are no refunds if a student misses classes due to sickness, vacation or other reason.
5. Registration Fees paid at the time of registration are non refundable.
6. If you have chosen the option to have tuition automatically deducted on the first of each month you have authorized Performer's Edge Dance Center Inc. to initiate, at such times as the amounts become due, debit entries against the credit card account listed on file on your account for services provided by Performer's Edge Dance Center Inc. I (we) authorize the credit card company to accept and debit entries initiated by Performer's Edge Dance Center Inc. to be debited from the account. I (we) have the right to cancel this automatic payment authorization by notifying the PEDC front desk 30 days prior to the first of the month. I (we) understand that if PEDC is not notified of cancellation prior to the first of the month, that I (we) will be billed for the upcoming month with no refund. I (we) understand that it is my responsibility to copy or notify the credit card company that this authorization is being cancelled.
IMPORTANT RECITAL/RECITAL COSTUME INFORMATION
1. Recital costume payments due November 15th 2023. If not paid by the 15th, costume payments will be made using the card on file on the 16th.
2. When registering for multiple classes, please note what recital the classes are in (A, B, C or D). This will ensure that the classes are in the same recital show at the end of the dance year in June. This is especially useful when registering more then 1 student.
3. Costume prices are listed on the schedule. When you register, the costume price and applicable sales tax will be added to your account but is not due until November 15th. If you would like to make a costume payment prior to the 15th, please see the front desk or email [email protected]. If the costume is not paid on the 15th, the card on file will be used on December 1st to make the payment.
4. The costume prices listed are for the end of year recital. Dance attire for class is purchased separately. See website for dress code.
5. The costume prices listed do not include sales tax. The sales tax will be added under the costume charge in your account.
6. The recital will be held at The R.P. Funding center the weekend of June 8th and 9th. There are 4 shows– A,B,C, D. This designation is listed next to each class on the schedule.
7. If a class has a SB a costume code, the costumes will be self purchased and additional information will be provided prior to the recital. If a class does not have a costume code, the class will not perform in the recital (company classes)
8. By purchasing a recital costume it is understood that there are no refunds for the costume payment past December 1st and that it is understood that the student is performing in the recital. If a student decides to drop a class after December 1st, they will be able to pick up the costume at the dance center once it arrives in the spring.
9. Tickets: Prior to the recital, parents will purchase tickets to the show their child is performing in. Tickets go on sale typically in April. Ticket sales will be online with additional information such as purchase start date and pricing announced prior to tickets going on sale. Students performing in the show do NOT have to purchase tickets to that same show.
Missed Class Policy:
1. There are no refunds if a student misses classes due to sickness, studio closings due to storms such as hurricanes or any other reason.
2. Students may make up a missed class in a similar level class if available. This may not always be available during the second half of the dance year when students are preparing for the end of year recital.
3. There are no refunds/tuition discounts for holidays/studio closings (This includes studio closings due to hurricanes or other natural events).
4. CONSECUTIVE MISSED CLASSES: If a student misses 2 consecutive weeks of classes without contacting the dance center,  PEDC reserves the right to drop the student form the class with a refund.
Lobby Area
1. Parents may watch their child on lobby monitors. Please limit viewing to one parent or guardian.
2. If siblings are waiting in the lobby area please limit the noise as to not disturb the ongoing classes.
Performer's Edge Dance Center Inc. reserves the right to refuse, suspend or discontinue our services to anyone at our sole discretion without refund.